Equity, Diversity and Inclusion
Equity, diversity and inclusion (EDI) at Davies have always been essential to who we are and how we work as a firm. Embracing our differences strengthens our ability to provide innovative solutions to our clients' most critical business challenges.
We strive to build an inclusive environment in which everyone is valued and empowered to succeed by bringing their whole selves to work.
As a leading law firm, we recognize that we have an obligation and an opportunity to diversify our talent pipeline and continuously foster an inclusive workplace. While we have made progress, we know there is more work to do.
A key part of our long-term strategy for an inclusive workplace is supporting the well-being of our people. Find out more about our wellness and mental health programs.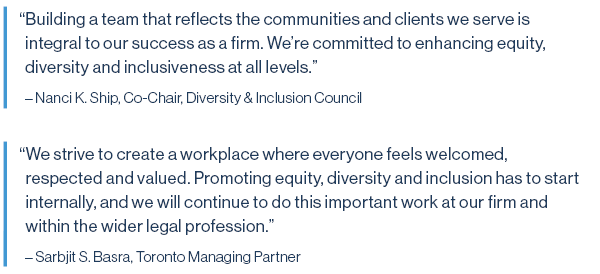 Our Commitment in Action
Supporting employee resource groups (or people networks) such as the Pride Network, BIPOC Network, Women Lawyers @ Davies Network and the Working Parents Network to foster a sense of community and belonging
Partnering with McGill University's Faculty of Law to fund the L.E.X. Outreach Program to engage youth from communities that face systemic barriers to education and are under-represented in Canadian law schools
Establishing the Davies Fellows Award, in collaboration with Osgoode Hall Law School, to support a first-year law student with financial need and exceptional promise, with the aim of creating a more inclusive and diversified legal profession
Participating in Avenue, a paid internship program to help Black undergraduate and CEGEP students in Canada gain real-world experience in the legal industry, as part of our commitment to breaking down barriers to the recruitment, retention and advancement of Black people in the legal profession
Partnering with national and local chapters of the Black Law Students' Association of Canada, LGBTQ2S+ Firm Hops in Montréal and Toronto, and Women of Colour Collective of McGill Law
Taking on pro bono files to fight discrimination, remove barriers and support equality, such as:

the Centre for Gender Advocacy's challenge against the Québec government regarding the rights of trans, non-binary and intersex people
the World Sikh Organization of Canada's challenge of Québec's legislative ban on religious symbols
sprinter Dutee Chand's appeal challenging the validity of the International Association Athletic Federation's Hyperandrogenism Regulation

Ensuring that EDI best practices and processes – including firm-wide unconscious bias training – are embedded in our recruitment, professional development and advancement policies
Organizations We Support