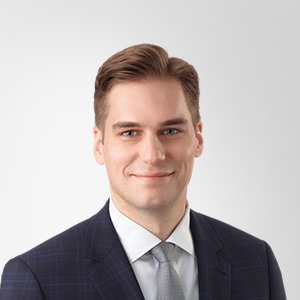 William Languedoc
2024 Second-Year Summer Class, Toronto
Law School
Osgoode Hall Law School
Education
Carleton University
Studying philosophy and cognitive science taught William to break down complex problems into simple parts – a skill he has found to be essential to good legal analysis.
With a small business background, he seeks to build a skill set that will help him contribute to the growth and success of businesses.
Is there a practice area or industry in which you are particularly interested?
Litigation. I'm passionate about the art of oral advocacy and persuasion, and I'm looking forward to leveraging these skills to help achieve a positive outcome for our clients.
If you were not a lawyer, what career would you have chosen?
I would have been a philosophy professor. I left my doctoral research to take up law school, so if I hadn't taken that path, I would likely have stayed in academia.
Is there an organization that means a lot to you?
The Sheldrick Wildlife Trust, a wildlife conservation organization based out of Kenya that rescues orphaned elephants and reintegrates them back into the wild. Before coming to law school I studied elephant cognition, so the protection of elephants is a cause that is very near to my heart.