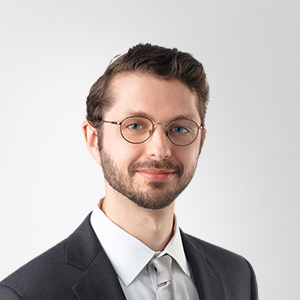 Matthew Beamish
2023 First-Year Summer Class, Toronto
Law School
University of Toronto
Education
University of Toronto
Matthew studied philosophy because he enjoyed the logical gymnastics and intersection with many other interesting subjects: "Everything depends on the cogency of one's argument; the same is true in law."
He chose Davies for the complex, high-stakes work combined with the collegiality and one-on-one mentorship opportunities.
Is there a practice area or industry in which you are particularly interested?
General commercial litigation. I am most interested in complex, fact-heavy legal disputes that straddle a number of areas of private law and in which there is no clear "right answer."
If you were not a lawyer, what career would you have chosen?
I would have been a general internist, to suss out and outsmart disease and thereby extend and improve my patients' lives.
Whom do you most admire?
Lord Jonathan Sumption, former justice of the U.K. Supreme Court, who, while practising as the most feared barrister at the commercial bar, also managed to write most of the standard five-volume history of the Hundred Years War.