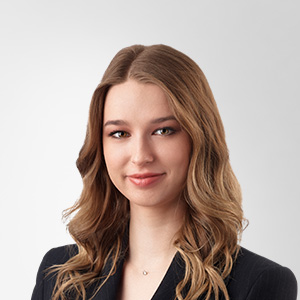 Liza Markova
2024 Second-Year Summer Class, Toronto
Law School
University of Toronto
Education
University of Toronto
Liza's double major in Molecular Biology and Psychology gave her a strong grounding in problem-solving and research, which has served her well at law school.
She is drawn to Davies for the firm's generalist approach, abundance of opportunities to get involved working on client files and strong sense of community.
Why are you interested in practising law?
For me, choosing law is about building an intellectually stimulating career that I am genuinely passionate about and one where I can attempt to make a positive impact.
Is there a practice area or industry in which you are particularly interested?
While I like to characterize myself as a "sponge" and want to try my hand in as many areas of law as I can, I am most interested in litigation. The process of researching, preparing and then essentially performing is inherently exciting to me.
Is there a skill you would like to learn?
I would love to learn ASL. Along with all the cognitive benefits of learning sign language, I believe being able to communicate with deaf and hard-of-hearing individuals effectively would be an invaluable skill to have.