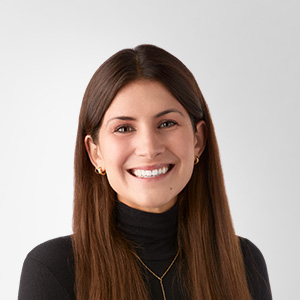 Gwenyth Wren
2023/2024 Articling Class, Toronto
Law School
Osgoode Hall Law School
Education
McGill University
Studying the fields of environmental sustainability and development allowed Gwenyth to explore her interests in the environment, economics, political science, biology and combatting climate change.
She looks forward to being challenged at Davies and to gaining more exposure to environmental law.
Why are you interested in practising law?
I want to learn how to leverage the law to contribute to a just net-zero transition because I believe rooting the fight against climate change in a strong legal framework is the most effective way to ensure tangible action will come to fruition.
Whom do you most admire?
Catherine McKenna. She is a supremely impressive woman who has clearly accomplished a lot politically; but more than that, I think she really has her priorities in order (family, climate change, getting outdoors).
What experience, job or internship have you learned the most from or found most rewarding?
I was a research assistant at the London School of Economics and had the opportunity to help plan and attend events at COP26 in Glasgow. I was able to see the tangible result of a lot of hard work while being in an environment that was the singular greatest learning experience of my life.