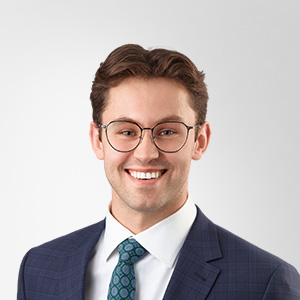 Charlie Mortimer
2024/2025 Articling Class, Toronto
Law School
Dalhousie University
Education
Ivey Business School, University of Western Ontario
Charlie is interested in the practice of law because it governs the interaction between individuals, businesses and government.
He chose Davies because the firm is synonymous with excellence and because our generalist approach and lean team structure provide the opportunity for new lawyers to explore different areas of law while doing substantive and meaningful work.
Is there a practice area or industry in which you are particularly interested?
While I look forward to working across different practice areas, I am particularly interested in competition law. I am drawn to the industry-specific learning that is necessary to successfully help businesses navigate their environments and grow; I am also interested in the nuances of the digital economy.
Is there an organization that means a lot to you?
During my undergrad studies at Western University, I volunteered at a national charitable literacy organization, where I tutored learners as they completed their high school equivalency (or GED). I was inspired to volunteer there when I witnessed first-hand how pursuing a GED changed the life of a good friend of mine.
If you could bring back any fashion trend, what would it be?
I am not sure if it counts as a trend, but I would bring back bowling shirts (or camp shirts). Somewhere between watching The Queen's Gambit and The Big Lebowski, I bought a few, and now I am just waiting for the right moment.