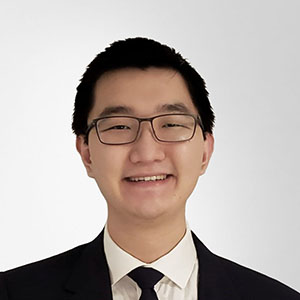 Bryan Yau
2023/2024 Articling Class, Toronto
Law School
University of Toronto
Education
York University
Bryan's background in business administration gave him an understanding of the way corporations work and how market and regulatory changes affect corporate operations.
He looks forward to applying lessons learned from his law school courses and involvement with the Investor Protection Clinic at the University of Toronto, Faculty of Law.
Is there something about you that we would be surprised to learn?
I once studied the adoption of e-signatures in Africa and became very interested in broader developments in areas such as digital operations and data engineering.
What experience, job or internship have you learned the most from or found most rewarding?
Working at the World Bank as a legal intern. It was an incredible learning experience to take on projects with a global impact.
What skill would you like to learn and why?
I'd love to learn how to make croissants. It's amazing to think that this recipe, with very few ingredients, requires such a high degree of patience, great technique and dedication to learn.