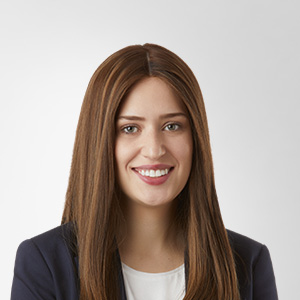 Perle Goldstein
Stagiaire, Montréal
Perle looks forward to starting her career at Davies by working with and learning from some of the most brilliant lawyers in their fields.
Perle's undergraduate degree in political science and psychology gave her valuable insights into what motivates human behaviour, which she believes will be of great benefit in her legal practice.
What surprised you most about Davies during the interview process?
Despite their busy schedules, the partners and associates I met with answered all of my questions and made me feel very comfortable throughout the process. I immediately felt very much "at home."
Whom have you learned the most from personally or professionally?
During my first and second summers of law school, I had the opportunity to clerk for two judges in New York. They taught me the importance of humility and were extremely generous with their time, both of which I hope to carry through in my legal career.
Whom do you most admire?
My parents who have taught me the importance of hard work, resilience and kindness. As the first person in my family to pursue a career in law, the road has not always been easy, but I have them to thank for not giving up.