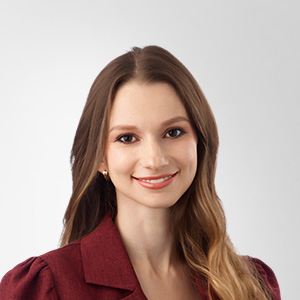 Yevgeniya Huggins
2022/2023 Articling Class, Toronto
Law School
Osgoode Hall Law School
Education
University of Toronto
Yevgeniya's degree in commerce, combined with her work experience in financial services, has provided her with a skill set and perspective that will be directly applicable to her practice of law.
Prior to law school, Yevgeniya worked for two years at an investment bank and for four years at an insurance company, where she underwrote management liability insurance lines for financial institutions.
Is there a practice area or industry in which you are particularly interested?
Mergers and acquisitions is an extremely exciting practice area and, having seen it from the banking perspective, I am eager to experience it from the legal point of view.
Why did you choose to work with Davies?
I hoped to work for a law firm that handled complex and challenging transactions for Canada's most sophisticated clients – but at the same time, a law firm that had a positive and supportive environment and a sense of working toward a common goal. Davies excelled at both.
Share a meaningful quote.
"You become responsible, forever, for what you have tamed." – Antoine de Saint-Exupéry