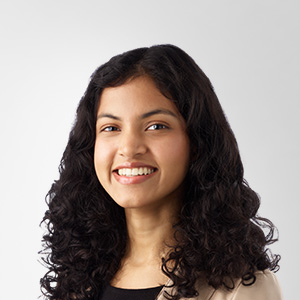 Srobona Podder
2022/2023 Articling Class, Toronto
Law School
University of Western Ontario
Education
Ivey Business School, University of Western Ontario
After studying economics and business, Srobona pursued a degree in law to round out her understanding of the interconnection between governments, corporations and individuals in our society.
Srobona received Western University's National President's Entrance Scholarship, a continuing scholarship awarded to students who have demonstrated outstanding academic performance, exceptional achievement in extracurricular activities and a commitment to community service.
Why did you choose to work with Davies?
Davies felt like the kind of place where I would be encouraged to try everything and anything. I think of myself as a life-long learner, and I can see that trait in every other person at the firm as well. Davies values hard work and individuality, and that's the kind of place where I can see myself building a career.
If you were not a lawyer, what career would you have chosen?
I would likely have pursued a degree in academia. Research has always appealed to me because it provides the opportunity to contribute to a greater community of academics who will ultimately shape policy decisions and have a positive impact on society.
Tell us something about yourself in six words or less.
Always be kind; others will reciprocate.