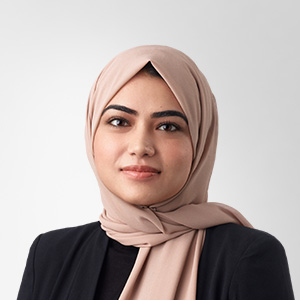 Sara Maqsood
2024 Second-Year Summer Class, Toronto
Law School
University of Toronto
Education
University of Calgary
Sara believes a good lawyer embodies curiosity, a hunger for learning and unwavering dedication to grow.
She looks forward to exploring M&A and tax law, inspired by recent interactions with mentors and professors, while remaining open to other practice area opportunities.
Why are you interested in practising law?
The legal field offers a challenging and intellectually stimulating environment. Navigating the complexities in the various areas of law allows me to continually expand my knowledge and problem-solving skills, which I find motivating and rewarding.
Why did you choose to work with Davies?
Davies' dedication to celebrating uniqueness and fostering creativity truly sets it apart. As someone with a diverse background and values, I felt a strong connection to the firm's encouragement of individuality among its students.
Is there an organization that means a lot to you?
MAX (Muslim Awards for Excellence) recognizes and encourages Muslims' professional, educational and charitable achievements. Its mentorship and scholarship programs have provided motivation, guidance and financial support throughout my academic journey. The support and mentorship from the people behind this organization have been instrumental in my success, and I would not be where I am today without their support.