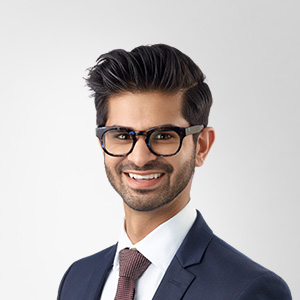 Samir Chadha
2024/2025 Articling Class, Toronto
Law School
University of Western Ontario
Education
Ivey Business School, University of Western Ontario
Samir's background in both medical sciences and business provides him with an interdisciplinary perspective that allows him to take a unique approach to solving complex problems.
Samir is looking forward to gaining experience in a variety of practice areas at Davies. The firm's generalist approach was a major reason for his choosing to work at Davies.
Is there a practice area or industry in which you are particularly interested?
My current interest is in M&A and Competition Law. I previously worked for a major telecommunications company where I was focused on strategy across the cost-saving, revenue-generating and media/entertainment sides of the business. It was always interesting to see how business decisions were shaped by regulatory bodies like the Competition Bureau and the CRTC.
What surprised you most about Davies during the interview process?
I was most surprised by how direct and honest everyone was. Whether I was speaking to a partner, an associate or an articling student, I always felt as if they were answering my questions in a genuine and candid manner.
If you were not a lawyer, what career would you have chosen?
If I was not a lawyer, I always dreamt of being a Late Night Talk Show Host. I think it would be interesting to meet new people, hear about their experiences and maybe even carpool karaoke with celebrities!