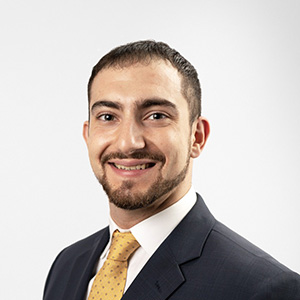 Salem Aboghodieh
2021/2022 Articling Class, Toronto
Law School
Osgoode Hall Law School
Education
University of Toronto
With a joint degree in law and business, Salem looks forward to providing clients with sound legal advice, grounded in a solid understanding of their commercial reality.
He chose to work at Davies because of our unmatched student program, which allows students to assume substantial responsibility early in their careers while exploring various practice areas within business law.
Salem was a finalist in the Rogers Challenge at the National Business and Technology Conference in 2017.
What experience, job or internship have you learned the most from or found most rewarding?
Being a teaching assistant for the Introduction to Business course at the Schulich School of Business has been an incredibly rewarding experience because it has given me the opportunity to connect with younger students and mentor them in their first days in university.
What inspires and motivates you?
Impact. I aspire to be someone who actively contributes to his community as opposed to someone who simply watches from the sidelines. My sense of purpose keeps me motivated!
Whom do you most admire?
My parents. My mother because of her selfless nature; she puts everyone else's needs above her own. My father because he has taught me countless lessons on the importance of hard work, perseverance and good character.