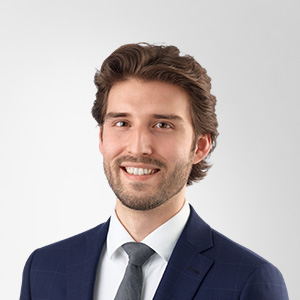 Ryan Reid
2024/2025 Articling Class, Toronto
Law School
University of Toronto
Education
McGill University
Ryan chose to pursue law because it's a balance of art and science: it's reliant on rules of conduct and procedure, yet also demands creative thinking and emotional intelligence.
During his studies at McGill, Ryan earned the Laddie Millen Memorial Prize, awarded to the student finishing first overall in the Labour-Management Relations program.
Is there a practice area or industry in which you are particularly interested?
I'm interested in litigation, in addition to a general corporate practice. I love to solve problems, present solutions and trade ideas. I consider myself cool under pressure, and the thought of a courtroom engenders far more excitement in me than nervousness.
If you were not a lawyer, what career would you have chosen?
With due respect to Kyle Dubas, Mark Shapiro and Masai Ujiri, I'd like to think I'd be in a decision-making position for one of Toronto's major sports franchises. I think these positions are a fascinating puzzle of operational, business and personnel decisions.
Whom do you most admire?
My grandfather. He left home at a young age to learn a trade and provide for his family. He then had the courage and fortitude to leave Ecuador and build a life for himself and his family in Canada. He is a skilled jeweller, unfailingly kind and the most loyal supporter a young man could ask for.