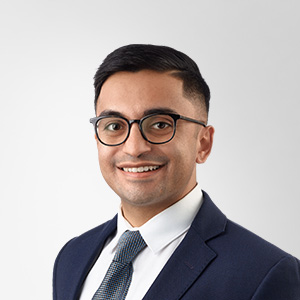 Rahin Hemani
2024/2025 Articling Class, Toronto
Law School
University of Western Ontario
Education
Ivey Business School, University of Western Ontario
Rahin pursued an undergraduate degree in business administration, inspired by his parents, who were entrepreneurs.
With a background as a management consultant, he now wants to play a bigger role in solving legal issues within businesses.
Is there a practice area or industry in which you are particularly interested?
I'm interested in technology and the law. I would love to play a role in developing solutions to the legal questions presented by novel technologies.
Is there something about you that we would be surprised to learn?
I was a ball kid for the National Bank Open (formerly called the Rogers Cup) tennis tournament. I had the pleasure of being on the court and working on matches featuring tennis legends such as Serena Williams, Rafael Nadal and Novak Djokovic.
Share a meaningful quote.
"Your dreams are up to you. I encourage you to always be curious, always seek out things you love, and always work hard once you find it." —Kobe Bryant