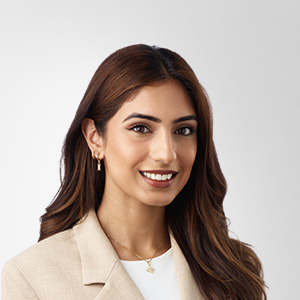 Puneet Aujla
2022/2023 Articling Class, Toronto
Law School
Osgoode Hall Law School
Education
Wilfrid Laurier University
Puneet was drawn to Davies because of our reputation for producing some of Canada's top lawyers while working on the country's toughest matters.
With a background in Business Administration, she looks forward to applying her problem-solving and strategizing skills to the complex and dynamic world of legal issues.
What common myth about Davies would you want to dispel?
I had often heard the rumour that all those who work at Davies fit into one "all work, no play" stereotype. Coming out of the interviews, I've found that this couldn't be further from the truth. Everyone I met was well-rounded, passionate about their work and, above all, kind, motivating and approachable.
Whom do you most admire?
My parents. They made innumerable sacrifices when immigrating to Canada in order to create a better life for me and my brother. Their positive attitude and tenacity, particularly in the face of significant obstacles, are both admirable and motivating.
Share a meaningful quote.
"It does not do well to dwell on dreams and forget to live." – Albus Dumbledore, Harry Potter and the Philosopher's Stone