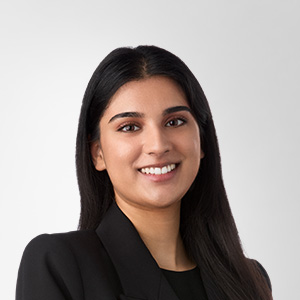 Natasha Burman
2023/2024 Articling Class, Toronto
Law School
University of Toronto
Education
Carleton University
Becoming a lawyer has been Natasha's dream job since she was in elementary school. She was inspired by applying ancient legal rules to solve modern problems in history class.
She is excited to explore as many different areas of law as she can and to gain hands-on experience with files and transactions at the start of her legal career.
Is there a practice area or industry in which you are particularly interested?
After five summers working at Sun Life Financial in Toronto, preparing the company for cyber threats and the resulting regulatory compliance considerations, I think the technology landscape presents challenges and problems that I want to solve.
Whom have you learned the most from personally or professionally?
My father. Having moved from India to New York when he was my age, he is my role model for dreaming big and staying focused on my ambitions and goals.
Is there something about you that we would be surprised to learn?
I come from a family of very strong chess players!