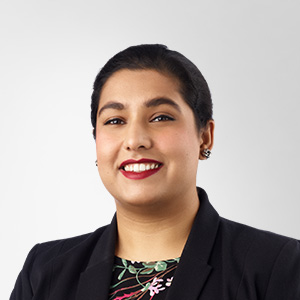 Mehak Suri
2022/2023 Articling Class, Toronto
Law School
Osgoode Hall Law School
Education
Rajiv Gandhi National University of Law
Mehak brings an international perspective to the firm, having studied and practised law for several years in New Delhi, India.
Mehak is a national level shooter in 10m Air Pistol – an Olympic shooting event governed by the International Shooting Sport Federation. She represented the province of Himachal Pradesh at the National Shooting championships in 2010 and 2011.
Is there a practice area or industry in which you are particularly interested?
I would eventually like to focus on debt financing, restructuring and insolvency, an area in which I specialized for over four years in India.
What surprised you most about Davies during the interview process?
How conversational the process was. There was genuine respect for my past work experiences and keenness to know more about it.
If you could rename yourself, what would it be?
I'd rename myself "Kismat." It is an Arabic word that means fate or fortune. It has a beautiful meaning and would be much easier for folks around the world to pronounce.