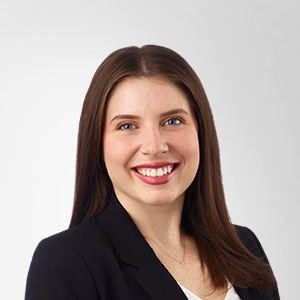 Maya Churilov
2022/2023 Articling Class, Toronto
Law School
Dalhousie University
Education
Ryerson University
Maya believes a good lawyer shows flexibility and creativity by recognizing each client's unique circumstances and providing customized solutions.
Maya chose Davies because of our well-known focus on high-stakes matters and commitment to a generalist approach and collegial culture – all of which foster an optimal learning environment.
What inspires and motivates you?
I am highly motivated by making a difference in people's lives. Throughout law school, I have enjoyed volunteering with the Dalhousie Law Students' Society. Last year, as vice president of Student Life, I helped foster a sense of community among my peers while operating in an entirely virtual environment.
What experience, job or internship have you learned the most from or found most rewarding?
My work with the Ryerson Law and Business Clinic. The clinic accepts 40 students from the Law and Business program to work with startups on various legal issues. It was incredibly rewarding helping people in the early stages of their business see their goals start to come to fruition.
Is there something about you that we would be surprised to learn?
I am fluent in Russian.