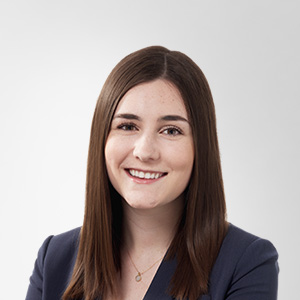 Kate Szendrey
Returning as Associate in Sept 2022, Toronto
Kate values a firm that focuses on developing its lawyers by giving them opportunities to challenge themselves – that's why she chose Davies.
Before starting law school, Kate worked for two years as a marketing specialist at a telecommunications company.
In 2018, Kate received a Distinguished Oralist award at the Lerners Cup moot competition.
What surprised you most about Davies during the interview process?
What surprised me most was how close and friendly all of the lawyers I met were with each other. It was nice to see that Davies' reputation of having really hard-working lawyers translates into a collegial firm culture.
Is there an organization that means a lot to you?
I'm an executive at the Osgoode Fashion Law Society, which raises money and support for the Women's Legal Education and Action Fund (LEAF). LEAF is an amazing organization focused on fighting for equality rights for women and girls in Canada by ensuring that Canadian courts protect the rights enshrined within the Canadian Charter of Rights and Freedoms.
If you could choose a superpower, which would it be?
Teleportation so that I could travel the world.