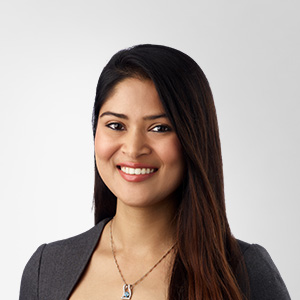 Kashish Jain
2022/2023 Articling Class, Toronto
Law School
University of Toronto
Education
Jindal Global Law School
With a combined background in business administration and law, Kashish believes an understanding of business operations and the reasons behind business decisions are invaluable for appreciating clients' needs.
She looks forward to building new professional connections while exploring different areas of law throughout her articles.
If you were not a lawyer, what career would you have chosen?
A certified scuba diving professional. I imagine that being able to experience underwater life must be nothing short of magic!
Share a meaningful quote.
My father told me this when I was in law school and it has stuck with me: "If you want to walk far, it is always with a team. But if you want to run fast, then you must run alone."
Where was the last place you travelled?
I recently went to Mexico and was amazed by the Mayan culture! I absolutely loved visiting the Cenotes and eating the wholesome food after.