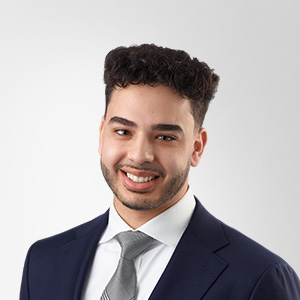 Kareem Elmankabady
2024/2025 Articling Class, Toronto
Law School
University of Toronto
Education
Schulich School of Business, York University
With a background in business studies, Kareem looks forward to devising effective strategies and solutions to the challenges that corporate clients face.
Kareem chose to work at Davies primarily because of the flexible summer program, which will allow him to explore his many interests, and because of the firm's strong emphasis on professional development and mentorship.
Is there a practice area or industry in which you are particularly interested?
I am particularly interested in fund formation and the venture capital industry. Providing counsel to high-growth companies will give me insight into a variety of industries and allow me to support innovation and entrepreneurship in Canada.
Would you rather live in the ocean or on the moon?
I would rather live in the ocean. I think it would be interesting to investigate the many mysteries of the ocean and to interact with the wildlife.
Who would play you in a movie about your life?
Mohamed Salah. He is also Egyptian and plays soccer, so he probably would be able to represent me well.