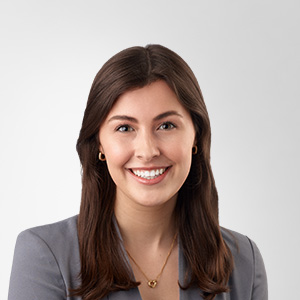 Kaleigh MacPherson
2024/2025 Articling Class, Toronto
Law School
University of Western Ontario
Education
Queen's University
Kaleigh graduated with a Certificate in Social Impact from Queen's Commerce, a program that focuses on responsible leadership.
She is drawn to M&A's fast-paced nature and high-stakes transactions, while real estate's focus on fostering mutually beneficial deals also appeals to her.
Would you rather live in the ocean or on the moon?
The ocean. Being from Nova Scotia, I grew up at the beach and when I got older, I became a lifeguard.
Is there an organization that means a lot to you?
As a caseworker at the Western Business Law Clinic, I really enjoyed supporting small and startup businesses with their legal needs. Getting hands-on experience so early in my legal education has been a great opportunity, enabling me to develop tangible, practical skills that I can apply in my career.
Where was the last place you travelled?
The Czech Republic, where I studied during my semester abroad. Unfortunately, it was cut a little short because of the pandemic, but it was a wonderful experience. I hope to return to Prague one day!