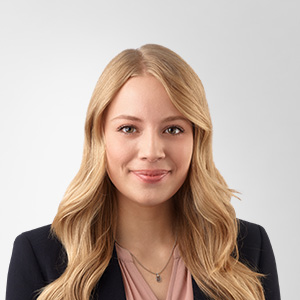 Justine Jasnich
2024/2025 Articling Class, Toronto
Law School
Osgoode Hall Law School
Education
Ivey Business School, University of Western Ontario
Justine's prior exposure to the securities industry has made her eager to gain experience in capital markets and securities matters.
Justine looks forward to building connections with her fellow students and mentors at the firm.
If you were not a lawyer, what career would you have chosen?
From a practical standpoint, I would have likely chosen to become a consultant because I am most happy working on a team and learning on my feet. In another life, I would have been a television producer for a live late-night talk show for all the same reasons.
Is there an organization that means a lot to you?
Start2Finish – an organization committed to ending child poverty by empowering children to develop their mental, physical and social health. One of the best parts of my time at Western was working with such great kids and helping them succeed.
What fictional character do you most identify with?
Nancy Drew. She was my favourite character growing up, and I attribute my endless curiosity and willingness to get involved to her.