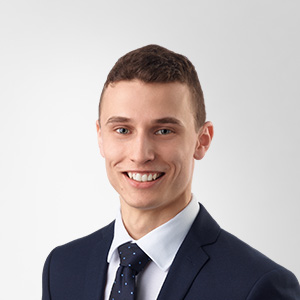 Justin Walker
2024 Second-Year Summer Class, Toronto
Law School
McGill University
Education
University of Ottawa
Justin believes a good lawyer is passionate about business and people – someone who listens, learns and reduces complex problems down to their essence.
Completing a BCom in Finance taught him to approach and analyze issues methodically and helped him to become comfortable working with challenging problems beyond the familiar.
Why are you interested in practising law?
Before law school, I found that helping clients reach their business goals was the most meaningful part of my work. I knew I wanted to pursue client service and a legal career was a way to combine my passion for business with the rigour of the law.
Is there a practice area or industry in which you are particularly interested?
Transactional work. I enjoy the challenge of dealing with unknown outcomes and working through issues to solve problems. Davies best fit this interest, considering its excellence in high-stakes matters across multiple practice areas and the flexibility given to students to work within them.
Is there something about you that we would be surprised to learn?
I am Franco-Ontarian. It brings me immense pride to share a language and unique culture with an incredibly resilient Francophone community here in Ontario.