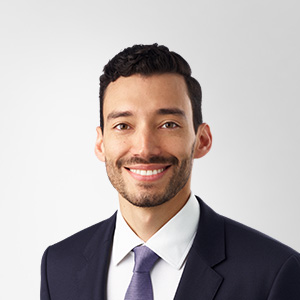 Juan Higuera
2022/2023 Articling Class, Toronto
Law School
Osgoode Hall Law School
Education
Universiteit Leiden
Universidad Panamericana
Juan's education and professional experience in Mexico, the Netherlands and Canada will enable him to bring a unique and global perspective to client matters.
He looks forward to learning more about the Canadian legal system and exploring different areas of practice while working alongside talented lawyers.
What qualities do you think a good lawyer should have?
A good lawyer should be adaptable and continuously learning. I have formally studied law for over seven years, but my best learning has come from writing articles and speaking at lectures and seminars.
What experience, job or internship have you learned the most from or found most rewarding?
Teaching the International Tax Law course to law students at my alma mater improved my communication and interpersonal skills while giving me the opportunity to pay it forward.
If you could choose a superpower, which would it be?
Time travel. The idea of controlling something so abstract as time is mind-bending.