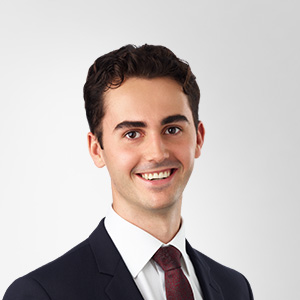 Jamieson King
2022/2023 Articling Class, Toronto
Law School
University of Western Ontario
Education
Ivey Business School, University of Western Ontario
Jamieson's background in economics and finance equipped him with the knowledge and skills essential for a successful legal career.
He looks forward to working with small teams on high-stakes files and learning how the nuances of each area of law affect a transaction.
What experience, job or internship have you learned the most from or found most rewarding?
My work in investment banking in England was a life-changing experience. I worked with people from all over the world who spoke different languages and came from vastly different cultures and backgrounds. During my time in London, I had to adapt to the various challenges that the world can throw at you and learn about myself as a person.
Aside from your studies, what else do you like to spend time doing?
Hockey has been a passion throughout my life. I love playing strategy-based games and I enjoy playing the piano and guitar. I also spend a lot of time reading – I've recently taken an interest in autobiographies.
If you were not a lawyer, what career would you have chosen?
I would have worked in analytics for a sports organization. Sports analytics involves thinking through complex problems in a novel way that sets you apart from your competition. It is an area that has interested me for many of the same reasons that drew me to law.