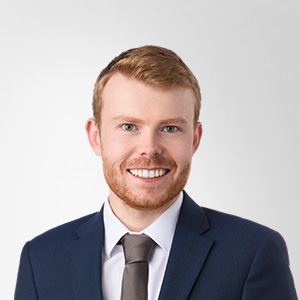 Jakob Kelly
2023/2024 Articling Class, Toronto
Law School
University of British Columbia
Education
University of Ottawa
Jakob believes a good lawyer understands the full picture, thinks ahead, and is able to provide a tailor-made solution to a client's needs.
His background in history and political science helped him to develop strong research and writing skills and how to make persuasive, factually grounded arguments without overlooking nuance. He also gained an understanding on the policy rationale behind laws and regulations.
Is there a practice area or industry in which you are particularly interested?
Corporate law, specifically mergers and acquisitions, because of the fast pace and because I enjoy seeing how negotiations and issues related to contract law and corporate governance play out.
If you were not a lawyer, what career would you have chosen?
A teacher – I love being able to explain complex subjects in an understandable and relatable way, and having the chance to mentor and help younger people achieve their goals.
If you could rename yourself, what would it be?
I'm so used to telling people my name is "Jakob with a K" that I don't think I could adjust to changing it.