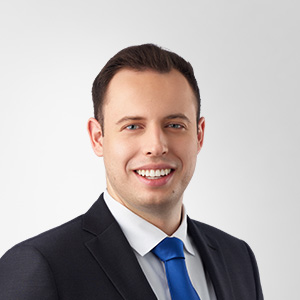 Jake Bershadsky
2022/2023 Articling Class, Toronto
Law School
University of Toronto
Education
McGill University
Jake believes the key to a healthy and successful career in any field – especially law – is to be constantly learning and to recognize that you can learn from anybody.
With a background in accounting and finance, he is confident that his understanding of how organizations work from the bottom up will be invaluable in solving clients' complex business challenges.
If you were not a lawyer, what career would you have chosen?
A doctor. I was, and still am, very interested in the sciences. I regularly follow scientific publications about new developments and recent trends in all areas of science.
Whom do you most admire?
Winston Churchill. His ability to muster the power of the English language and transform it into a force of nature is perhaps one of the best examples, at least in the 20th century, of genuine leadership.
What skill would you like to learn and why?
I would like to further learn how to code, so that I could write programs that could be utilized in real-life scenarios. The future (and present) is electronic. The ability to code is such a useful skill – it can be applied in so many different areas, including the legal field.