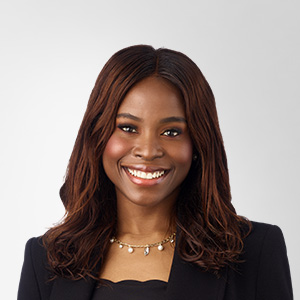 Ifechukwude Obiago
2022/2023 Articling Class, Toronto
Law School
Osgoode Hall Law School
Education
Nigerian Law School
University of Lagos
Ifechukwude was drawn to Davies because of the firm's illustrious reputation, supportive work environment and diverse set of practice areas, which students are encouraged to explore.
She is thrilled to be part of a profession dedicated to providing innovative solutions to clients and looks forward to working with and learning from the best.
What surprised you most about Davies during the interview process?
I was pleasantly surprised by the attention to detail. Everyone I spoke with also took the time to pronounce my name correctly. The warmth and enthusiasm exuded by everyone on the team was phenomenal.
What experience, job or internship have you learned the most from or found most rewarding?
Before moving to Canada, I worked as an associate at one of Nigeria's premier law firms. I had the opportunity to advise on several local and cross-border transactions, engage with professionals across different fields and make lifelong friends.
Whom have you learned the most from personally or professionally?
My parents. Both of them are entrepreneurs at heart. They taught me to creatively solve problems and stay resilient when things don't go as planned. These qualities continue to apply to my career today.