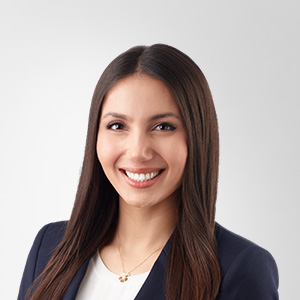 Helin Tasdemir
2024/2025 Articling Class, Toronto
Law School
University of Toronto
Education
University of Toronto
Helin knew from a young age that she wanted to pursue a profession where she could build relationships, find creative solutions to problems, and use her analytical skills.
Her undergraduate degree in political science and criminology & sociolegal studies provided a general understanding of the law, which now allows her to dig deeper into legal issues.
Why did you choose to work with Davies?
Davies offered me exactly what I was looking for: generalist approach, hands-on learning and collaborative spirit. While I have a strong passion for business law, I am very eager to learn and explore as many areas of law as possible before deciding where to specialize.
Is there an organization that means a lot to you?
Matthew House, where I help in the Refugee Hearing Department and conduct mock hearings with claimants who are preparing for their Immigration and Refugee Board hearing. It is a great opportunity to give back to the community and meet a variety of people from different backgrounds.
Is there a skill you would like to learn?
I listen to a violin playlist with fireplace background sounds when studying and find it very calming. I would love to learn how to play the violin for a relaxing study or work break.