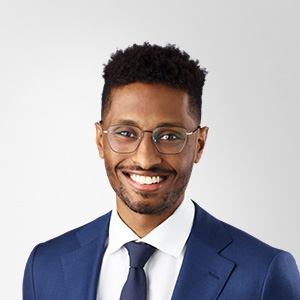 Eyoel Negaye
2022/2023 Articling Class, Toronto
Law School
Osgoode Hall Law School
Education
Ryerson University
Eyoel's schooling in finance and economics sharpened his analytical and business judgment skills, which together will help him confidently navigate complex legal challenges.
He looks forward to getting hands-on experience in the different practice areas at Davies while working with a high-performing and dynamic team.
What experience, job or internship have you learned the most from or found most rewarding?
Being a teaching assistant at the Schulich School of Business was an incredibly rewarding experience and a highlight of my time in the JD/MBA program. I drew on and shared my own experiences to help mentor students as they embarked on their university journey.
Whom have you learned the most from personally or professionally?
My parents. From them, I learned the value of a strong work ethic and maintaining a positive mindset no matter how challenging things get. Their resilience in the face of adversity inspires me to work my hardest to achieve my goals.
Where was the last place you travelled to?
Ethiopia. The people are incredibly hospitable, and the country has a very rich history.