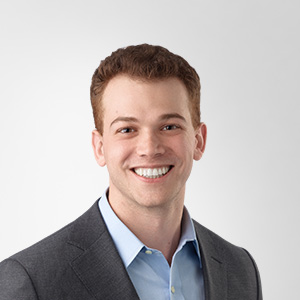 Ethan Birbrager
2024/2025 Articling Class, Toronto
Law School
Osgoode Hall Law School
Education
Ivey Business School, University of Western Ontario
Ethan chose Davies for the opportunity to work on prominent client files that help shape the global economy.
Ethan's long-standing interest in financial markets and business strategy, combined with his educational and professional experience, will give him unique insight into the environment in which corporate clients operate and the tools necessary to succeed.
Is there a practice area or industry in which you are particularly interested?
Having worked in private equity and in management consulting, I am excited to gain exposure to mergers and acquisitions activity from a legal perspective. I enjoy learning about a company and an industry quickly and being able to see tangible results when a deal is completed.
If you were not a lawyer, what career would you have chosen?
Realistically, I would be continuing my work in management consulting. I loved collaborating to solve complex business problems and the fact that no two days were the same. My dream job would be as a permanent healthy scratch for the Leafs. I believe I could be a tremendous glue guy and locker room DJ to help break the Stanley Cup curse.
What is your go-to karaoke song?
I have never met a crowd that did not enjoy a Backstreet Boys rendition. Their songs also allow me to show off my dancing "skills."