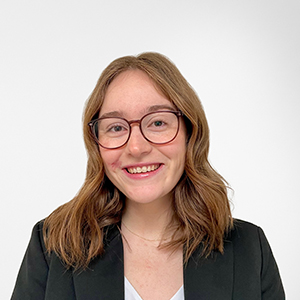 Emily Dolan
2023 Second-Year Summer Class, Toronto
As with her business studies, which exposed her to various disciplines such as marketing, finance and operations, Emily is excited to learn about many different areas of law and how they interact with and impact each other.
She chose Davies for the many opportunities to work on large, impactful transactions and the room to try different practice areas early in her law career.
Why are you interested in practising law?
Law is fundamental to almost everything – it's exciting to be able to understand how the law intersects with different areas of business and how it impacts organizations.
What surprised you most about Davies during the interview process?
Everyone I spoke to was so genuine – they took the time to read my resume, ask me questions to which they were truly interested in knowing the answers, and share their experiences at the firm in very candid ways.
If you were not a lawyer, what career would you have chosen?
Publishing. I've always loved to read, and publishing is a really interesting intersection between the more creative side of things and business. I would also love to be the first to read some great books before they hit shelves!