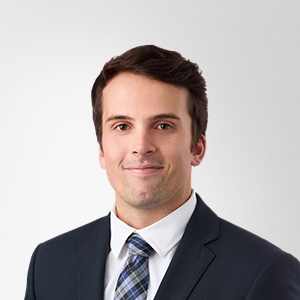 Dylan Young
2023/2024 Articling Class, Toronto
Law School
Osgoode Hall Law School
Education
Queen's University
Law interests Dylan because it challenges him to keep learning as the law evolves.
Drawing on his time playing sports, where extensive preparation builds to a single event, he looks forward to exploring his interest in litigation.
Tell us about a significant award or accomplishment.
I was awarded the Ontario University Athletics Player of the Year (MVP) for Men's Rugby in 2019. Also, I played rugby professionally with the Toronto Arrows RFC prior to law school.
What inspires and motivates you?
I have always admired the people in my life who have become experts in their fields and are able to use their skills to help others.
What skill would you like to learn and why?
I'd like to learn woodworking or carpentry. People who work with their hands make it look so simple to create something complex – and it amazes me.