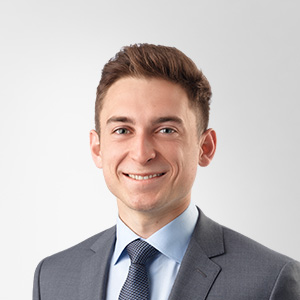 David Townshend
2024 Second-Year Summer Class, Toronto
Law School
Osgoode Hall Law School
Education
Wilfrid Laurier University
David's experience analyzing large amounts of data, developing brand strategies and managing client relationships as a brand marketer has helped prepare him for a career in law.
During his studies at Laurier, he was president of Enactus Laurier, part of a global organization on 2000+ campuses focused on student teams developing real sustainable social businesses.
Is there a practice area or industry in which you are particularly interested?
Litigation, and working with early-stage and high-growth businesses on the transactional side. Prior to law school, I did a lot of work with startups and young entrepreneurs, particularly through my involvement with Enactus.
Why did you choose to work with Davies?
It's abundantly clear that Davies sees tremendous potential in their summer students and are invested in giving us a broad range of meaningful experiences in the work that we do.
Is there something about you that we would be surprised to learn?
One of my Dad's many hobbies is Labrador breeding. The last litter of puppies was born two weeks before I wrote the LSAT. Despite the barking and crying while I prepared for and wrote the test from home, they were my good luck charm!