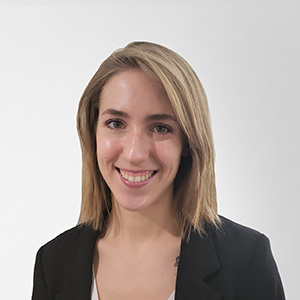 Danica Bennewies
Returning as Associate in Sept 2022, Toronto
Danica is a firm believer in learning by doing – which is one of the reasons she chose to work at Davies.
Danica's background in chemistry honed her ability to tackle complex problems in a methodical and structured way, a skill that will readily transfer to the practice of law.
She looks forward to getting hands-on work experience at Davies, particularly in new and unfamiliar areas of law, and to getting to know her fellow students and firm members.
What inspires and motivates you?
Continuous learning. I always want to know the "why" behind everything, and not knowing or understanding something motivates me to dig deeper to figure it out.
What experience, job or internship have you learned the most from or found most rewarding?
I previously taught an LSAT course through the University of Toronto's Law School Access Program. It was such a rewarding experience to see my students' confidence increase over the span of a few months, and now many of them have started law school!
Share a meaningful quote.
"It's never too late to be what you might have been." – George Eliot