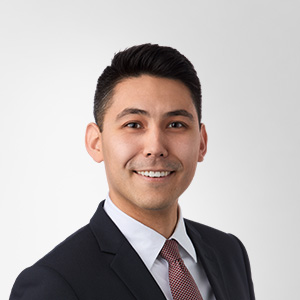 Connor Hasegawa
2023/2024 Articling Class, Toronto
Law School
McGill University
Education
University of Windsor
Connor's athletic career trained him to approach work methodically and with absolute dedication, which benefited him in management consulting and in transitioning to law.
He looks forward to opportunities to develop skills across multiple practice areas, while being constantly challenged and meeting like-minded lawyers and students.
Tell us about a significant award or accomplishment.
I am a two-time national medallist in competitive ice dance (with my sister) and represented Team Canada internationally for three years.
If you were not a lawyer, what career would you have chosen?
I considered pursuing a career as a conductor; I studied music quite intensely and continue to enjoy poring over orchestral scores at the piano in my free time.
Whom do you most admire?
After the internment of Japanese Canadians during World War II, my late grandfather worked in a factory to pay his way through dental school. His unparalleled work ethic, commitment to professional excellence, and devotion to his family and community have been a constant source of inspiration to me.