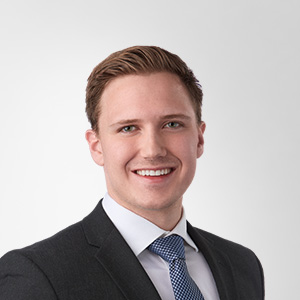 Colton Horne
2023/2024 Articling Class, Toronto
Law School
University of British Columbia
Education
University of British Columbia
Colton appreciates seeing the tangible impact that construction and development can have on a specific neighbourhood or on a large city.
He looks forward to exploring his interest in infrastructure and commercial real estate law at Davies, and to working alongside other talented students.
Is there an organization that means a lot to you?
Motionball is a non-profit organization that raises money for the Special Olympics. While completing my undergraduate degree, I was lucky enough to be the treasurer for the campus Motionball club and helped organize our university's first-ever Motionball fundraising event.
What experience, job or internship have you learned the most from or found most rewarding?
Working as an apprentice electrician after graduating from high school. Despite being new to the electrical trade, I had a great opportunity to work within a group of supportive individuals who were all focused on completing a common task.
What skill would you like to learn?
I would like to learn how to play the harmonica. I have always enjoyed its sound, and I like that it's a very portable, hassle-free instrument.