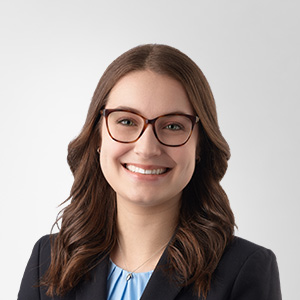 Claire Ogaranko
2023 First-Year Summer Class, Toronto
Law School
McGill University
Education
University of Ottawa
Claire is drawn to the problem-solving and analytical reasoning required to solve complex legal problems.
Her studies in Public Administration and Management, combined with her work experience as a page at the Senate of Canada, have given her valuable insight into the legislative process and policy development and a strong foundation for a legal career.
What are the essential qualities of a good lawyer?
Humility and curiosity – regardless of how many years someone has been practising, there are always things to learn and ways to improve oneself. Throughout my life, I have tried to embody these values by seeking out new experiences and by having an open mind, which I hope will serve me well at Davies.
Is there an organization that means a lot to you?
OrKidstra is an Ottawa-based charitable organization that empowers kids from underserved areas through music. The acapella group of which I was a part throughout my undergrad would put on a show every year, with proceeds donated to this great organization.
Tell us something about yourself in six words or less.
Born and raised in Winnipeg, Manitoba.