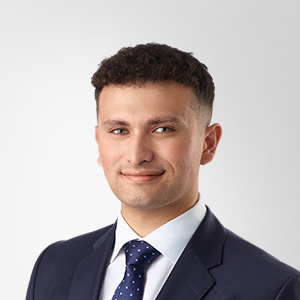 Chase Drieberg
2024 Second-Year Summer Class, Toronto
Law School
University of Ottawa
Education
Arizona State University
Through his journalism studies, Chase learned how to ask the right questions, conduct accurate research and write coherently and persuasively.
He looks forward to applying these skills to help clients' most important matters reach their destination.
Why are you interested in practising law?
I love understanding what matters most to people and doing everything in my power to help them solve their issues. I like to constantly be challenged and continuously learn about new industries. Practising law will allow me to do just that.
If you were not a lawyer, what career would you have chosen?
Working in the front office of an NHL franchise. I love the strategy, creativity and teamwork that goes into building a successful franchise. Plus, being able to see the results through success on or off the ice would be exciting and fulfilling.
Why did you choose to work with Davies?
Because of how passionate and excited the people were about their work. Everyone I talked to made me excited about their practice area or specific cases/deals they have worked on, including in practice areas I hadn't yet considered.