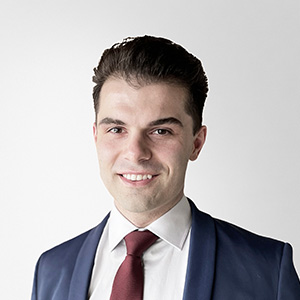 Brook Hiddink
2022/2023 Articling Class, Toronto
A former semi-professional hockey player, Brook is excited to join a profession with a similar high-pressure environment that will consistently challenge him.
He looks forward to applying his passion for business to corporate law and to becoming not only a trusted lawyer but a trusted business adviser to his clients.
Is there a practice area or industry in which you are particularly interested?
I have an early inclination for M&A, but am eager to continue experimenting within the various niches of transactional law and embracing Davies' generalist approach.
Is there an organization that means a lot to you?
When I retired from hockey, I was fortunate to join the Big Brothers and Big Sisters Foundation of Canada as a mentor to young men in grades 7 and 8. The program's lessons focus on emotional health and personal skills and their application to team settings.
Is there something about you that we would be surprised to learn?
I lived in Bali, Indonesia, for four months. While challenging at times, it gave me a unique opportunity to reflect and set goals for the type of future I wanted to create for myself. It is my favourite place I have travelled to thus far.