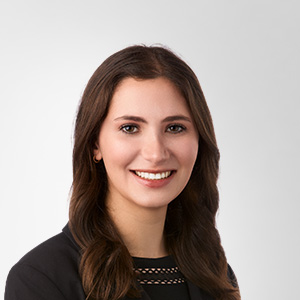 Bailey Stern
2023/2024 Articling Class, Toronto
Law School
Osgoode Hall Law School
Education
University of Western Ontario
Bailey is drawn to the complexity and problem-solving aspect of law, and to the opportunity to use her interpersonal skills in a professional setting.
Knowing that she wanted to pursue a career in law, she decided to study psychology to gain a deeper understanding of human nature in preparation for working in a highly client-facing industry.
Aside from your studies, what else do you like to spend time doing?
I maintain an active long-term volunteer status with my local senior centre and childcare facility, having just celebrated my twelfth year as part of their volunteer teams.
Is there an organization that means a lot to you?
Canadian Blood Services – I am a passionate advocate for blood donation and have been an active donor since meeting the age requirements. As a member of the organization's executive team while completing my undergraduate degree at Western, I led training sessions for volunteers to teach in-clinic protocols and implemented recruiting strategies to increase student donations.
Where was the last place you travelled?
Amsterdam. I went on exchange for the fall semester of my third year of law school. I studied at the University of Amsterdam Law School and lived in Kattenburg. While on exchange, I travelled to several places in the Netherlands and throughout Europe.