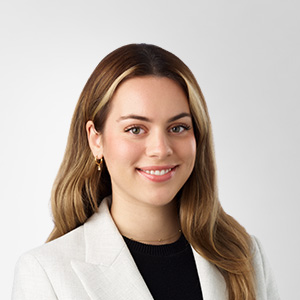 April Citter
2022/2023 Articling Class, Toronto
Law School
University of Toronto
Education
University of Western Ontario
April was drawn to Davies because the firm empowers students to develop a diverse practice that suits their unique interests.
She looks forward to learning from some of the best lawyers in the country and working with clients to help them reach their business goals.
If you were not a lawyer, what career would you have chosen?
I would have chosen to be a firefighter. My dad is a firefighter, and I think I would really enjoy the nature of the job. It is challenging, unpredictable and rewarding.
What common myth about Davies would you want to dispel?
One myth I heard about Davies before the interview process was that everyone at the firm was very intense. I quickly learned that this was not the case. The culture of the firm is refreshing and welcoming. The lawyers here not only love the work that they do, but they love to be the best at what they do. It is motivating to be surrounded by such exceptional individuals.
Is there something about you that we would be surprised to learn?
I skipped grade 6!