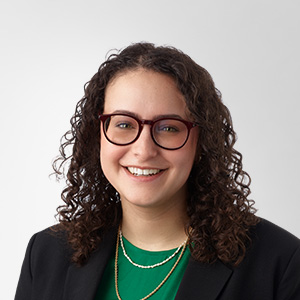 Alexa Amar
2024/2025 Articling Class, Toronto
Law School
University of Western Ontario
Education
Ivey Business School, University of Western Ontario
A naturally curious person, Alexa chose a career in law for the opportunity to work in a profession that supports and encourages lifelong learning.
She looks forward to learning through hands-on experience, particularly in corporate law, where she'll apply knowledge acquired throughout her education.
Alexa was awarded the Stephen G.A. Pitel Award in Private International Law.
What fictional character do you identify most with?
Monica Geller because I also get excited about cleaning and organizing.
Is there an organization that means a lot to you?
Jack.org trains and empowers youth leaders to revolutionize the conversation regarding mental health. Recognizing that a student's peers are those most likely to spot signs of struggle, Jack.org works to educate students. I am the current president of Western University's chapter.
Whom do you most admire?
My zaidy. He is a Holocaust survivor and moved to Canada when he was young with very little family and knowing no English. He created a happy family and practised as a successful accountant – all on his own.