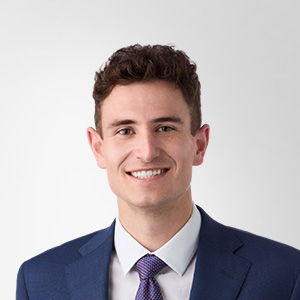 Adam Cockburn
2023/2024 Articling Class, Toronto
Law School
University of Western Ontario
Education
Ivey Business School, University of Western Ontario
Adam has a keen interest in economics, particularly understanding how various stakeholders interact and how those interactions affect the economy and society more broadly.
He is excited to work alongside the same passionate, genuine and friendly people he met during the interview process and to gain experience on high-profile matters.
Is there an organization that means a lot to you?
Since my second undergraduate year, I have volunteered at SWAM (Swimming with a Mission), a club that pairs student volunteers – as swim instructors – with underprivileged and physically or mentally disabled children. The highlight of my week is seeing my buddy's face light up every time he gets in the water, no matter how poorly his week went.
If you could choose a superpower, which would it be?
The power of flight. I've always wanted to travel across the world, so being able to fly would mean I could finally accomplish that goal – on my own terms and at my own pace.
What skill would you like to learn and why?
I've always wanted to learn to surf. Whether in a pool, a lake or the ocean, I can spend hours in the water.