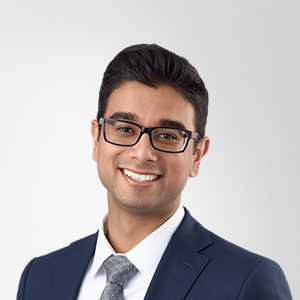 Abilash Sathyakumar
2024 Second-Year Summer Class, Toronto
Law School
Osgoode Hall Law School
Education
Schulich School of Business, York University
Abilash believes his knowledge and experience in capital markets will help him speak the language of clients and understand their challenges.
Intrigued by the intersection of business and the law, he looks forward to applying a balance of creative thinking and risk analysis to legal problems that arise in the corporate context.
Is there an organization that means a lot to you?
Future Possibilities for Kids, which aims to build leaders among youth between the ages of 9 and 12 located in the Greater Toronto Area. I volunteered as a coach, helping with one-on-one mentorship of youth in the program. It was fulfilling to see their growth over the program's one-year term.
Whom do you most admire?
My parents. They fled a civil war in the hope of a better life, and they raised my brother and me while working multiple jobs. Their resilience in the face of adversity and their journey reminds me every day of the sacrifices they made and the privilege I have.
Would you rather live in the ocean or on the moon?
The moon, since I have always wanted to travel to space!