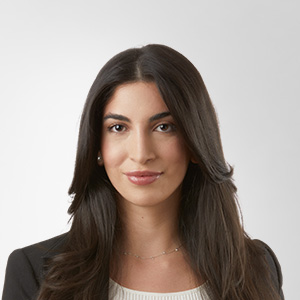 Zoha Vaseghi
Student, Montréal
Law School
Université de Montréal
Education
McGill University
John Abbott College
Zoha's background in political science and international development has expanded her understanding of the operation of legal system and of the law generally.
Her interest in a legal career stems from her desire to develop innovative, creative solutions that help individuals, organizations and businesses achieve their goals.
Is there an organization that means a lot to you?
I was involved with Pro Bono Students Canada during my first year in law school. The experience was rewarding because it allowed me to contribute to facilitating access to justice.
If you could choose a superpower, which would it be?
To be able to heal others.
Whom have you learned the most from personally or professionally?
My parents. My family moved to Canada when I was 12, and their resilience showed me how important it is to always pursue your goals and never give up. They also taught me to overcome challenges with confidence.