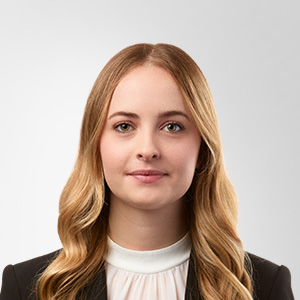 Véronique Chantigny
Student, Montréal
Law School
Université de Montréal
Education
Université de Montréal
Véronique's studies in biochemistry and molecular medicine allowed her to develop thoroughness and critical thinking skills, qualities that are essential to excelling as a lawyer.
Véronique chose to work at Davies because the people she met demonstrated a real passion for law and that lawyers at Davies form a close-knit team.
Why are you interested in practicing law?
Law allows me to combine several of my interests, such as current events, politics and my desire for ongoing learning.
What qualities do you think a good lawyer should have? How do you display those qualities?
In my opinion, respect and thoroughness are essential qualities for a successful lawyer. I believe these are two qualities that represent me well.
If you had not chosen law, what career path would you have taken?
I would have become a biochemist. Science has always fascinated me and discovering new treatments has always been of interest to me.