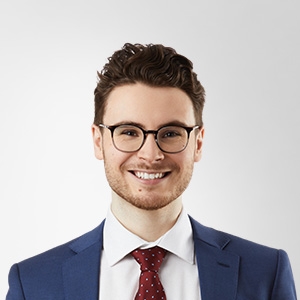 Simon Hamel-Genest
Student, Montréal
Law School
McGill University
Education
University of Ottawa
Simon believes a good lawyer is someone who can adapt to any situation, set of facts or legal principle, while also taking quick, decisive action to resolve issues as they arise.
He chose to pursue a legal career to further his long-standing interest in issues at the intersection of history, politics and law.
What did you study?
I specialized in researching mining resource conflicts in the Democratic Republic of the Congo, which helped me understand and apply international human rights law to specific historical and ongoing conflicts.
What experience, job or internship have you learned the most from or found most rewarding?
Since 2017, I have worked as an investigator for the Office of the Commissioner of Official Languages. Helping Canadians access justice, funding and services in the spirit of substantive equality has been rewarding.
If you were not a lawyer, what career would you have chosen?
I would have opened up a small bed and breakfast in the country that would double as a functional farm to live sustainably from the earth.